LOURDES
The medium-sized Lourdes is the perfect everyday handbag and fits all valuables such as your phone, small makeup pouch, wallet, notebook, sunglasses, keys and the like.
SHOP LOURDES
Live to Create Your Own Legacy
Using the highest quality leather sourced in Italy, the first collection of LINNETTE handbags is sustainably handcrafted by the finest artisans in Italy. Each piece is inspected to ensure high quality pieces are delivered.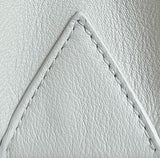 Silvia
Roomy enough to carry all your essentials such as a water bottle, phone, wallet, tablet, larger makeup pouch, sunglasses, scarf, keys, sunglasses, notepad, perfume bottle and beyond. 
Link label
ALEXA
The mini-sized ALEXA is decidedly small yet mighty and can easily maneuver from day to date night. The ALEXA comfortably fits a phone, lip gloss, sunglasses and credit card wallet.
SHOP ALL ALEXAS